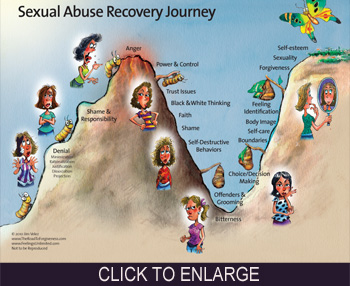 The map is intended to provide perspective and the general sequence of possible topics to be explored when helping an individual recover from sexual trauma. This map is by no means all inclusive. The very nature of trauma opens different doors for different people.
This map can:
Provide the counselor with a visual picture of the typical terrain in the sexual abuse recovery journey
Enlighten a survivor's spouse as to the nature and extent of the recovery journey
Be used with the survivor or recovery group to chronicle progress-"Look how far you've come!"
---
The map comes in 8 1/2 by 11, four color and laminated to insure it will last for years.
Sexual Abuse Recovery Map - Price: $4.95
Two easy ways to buy:
PayPal or Credit Card
Sexual Abuse Recovery Map - 10 Pack
For Price: $35.00
Two easy ways to buy:
PayPal or Credit Card